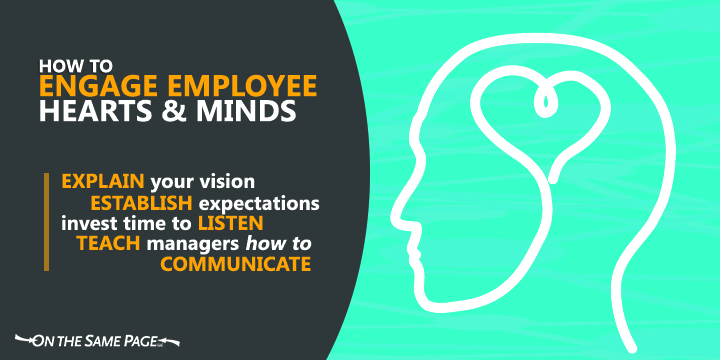 Superior leaders lead through effective communication. The "secret sauce" is engaging hearts and minds to inspire action.
Did you know that many of the so-called "rational" decisions we make – and the way we behave – are governed by our emotions, and that our emotions have projective power over our thoughts? Emotions act as filters to form our desires, furnish our capacities, and to a large extent, rule our immediate thoughts. As we encounter fresh situations, become faced with novel problems or grapple with new ideas, our emotional response to each of these sets in motion the initial allocation of our mental resources. In essence, our first "read" of a new situation is always centered in our emotions, feelings and attitudes. As such, our emotions are laying the groundwork for the thinking that is to come.
Creating a powerful connection and compelling your stakeholders to take action requires engaging both the head and the heart – the mind and emotions. And for employees, engaging heads and hearts delivers higher levels of business impact faster. Here are four tips for more effective employee engagement:
1. Tell your story. Explain your organization's vision and strategy to inspire and motivate. How? Simplify the strategy or vision in a way that resonates with employees (is personal and meaningful).
2. Set expectations. Employees want and need to know, clearly and specifically, what is expected of them. This includes both job tasks and organizational culture behaviors.
3. Actively listen. Everyone wants to be heard. Show your leaders, peers and employees that what they have to say is important by really listening. Put down your phone, turn to face whoever is speaking, avoid distractions and summarize what is said to you. Remember to take action after the conversation is over, if necessary. Actively listening shows respect and builds trust.
4. Communicate effectively. Provide the tools and coaching to help leaders and managers effectively communicate, fostering more productive and engaging relationships within their teams.
For more tips on how to set expectations with your team, check out this piece from Forbes.
Want more "secret sauce"? Schedule a Complimentary Clarity Call with me today to identify where to shine the light and spring clean, and what to amplify, so you can level-up your impact — and that of your team.